Skype Contact Logger
Introduction
Many organizations all around the world use Skype for Business as a powerful communication service. Skype Contact Logger application is used in conjunction with MS Skype for Business.
The main idea of Skype Contact Logger is to track status changes for contacts from your MS Skype contacts list. All status changes are shown inside the grid and can be filtered by time or status.
Interface
Skype Contact Logger interface is divided into four parts.
· Main area. This part of interface is a grid that consists of columns Status and Date. In this area, you can see status history information about certain contact. Information in main area can be filtered. Text in rows is colored by MS Skype status.
· Contacts pane. This part contain your contacts list that taken from MS Skype. Contacts pane has a friendly interface because it is the same like Skype Client application contacts list.
· Options pane. This area contains two Date/Time items and Refresh button.
· Main menu. This area contain of File menu and Help menu.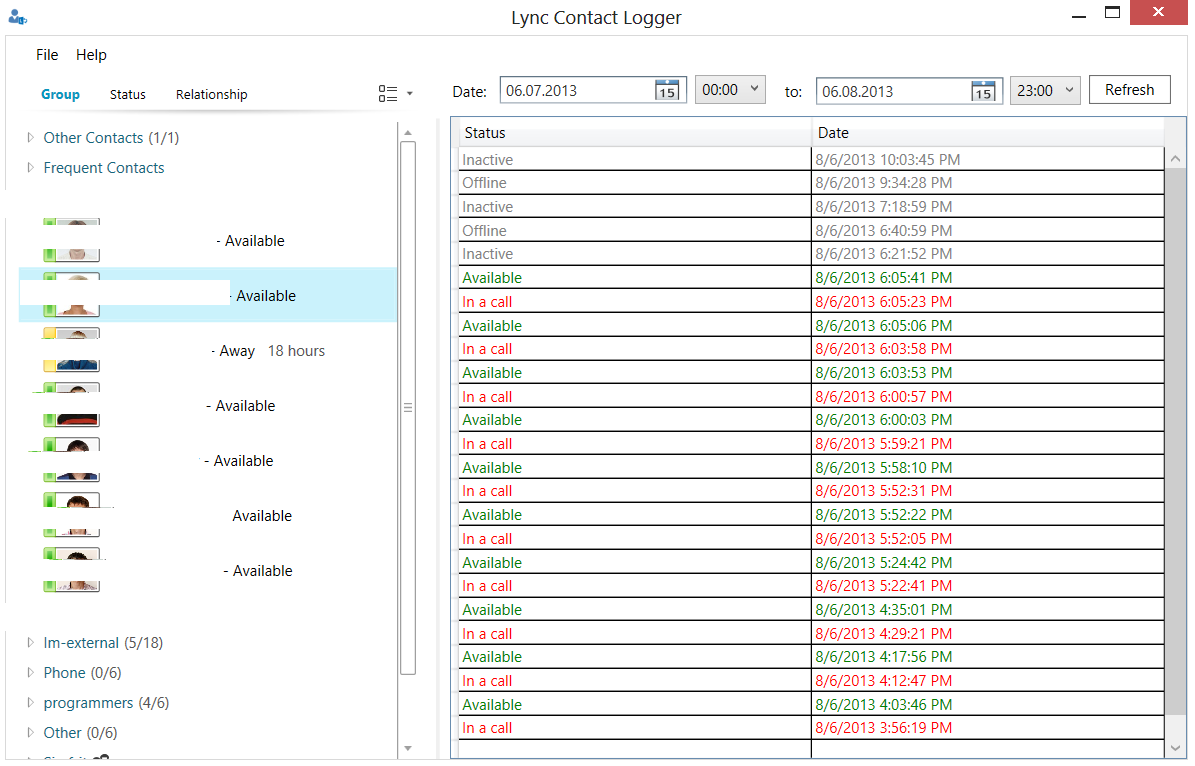 How to use
After application starts, it begins to track all your Skype contacts status changes. You can click any contact from contacts pane to see status change history.
In the options area you can choose the time interval for which you want to view status changes log for selected contact. Default date/time interval is set to actual day. Grid is filled automatically and if you want to see current information, you can click Refresh button or simply press F5 on your keyboard.
Lync Contact Logger has friendly interface and you can see status log information simply clicking contact by contact from contacts pane.
You can also view contacts information and start call or conversation from Skype Contact Logger contact pane as you used to do in Lync application.
Note: To use Skype Contact Logger MS Skype for Business must be running.
Note: Skype Contact Logger tracks status changes information only when application is running. You can click close button of the main window to hide Skype Contact Logger to the background. You can use File -> Exit or exit application from system tray to completely close it.
Uninstall
To uninstall Skype Contact Logger go to Programs and Features in Control Panel, select Skype Contact Logger and click Uninstall.
Download
http://bitcraft.ru/Media/Default/lcl/LyncContactLoggerSigned.zip